Visio Stencil For Shooting Course Design
Those of you who have the Visio™ design software for Windows may be interested in a "stencil" that contains 36 various shapes suitable for laying out practical shooting courses of fire. The stencil was developed in Visio 5 but it should work fine in other versions too.
If you can think of any other useful shapes that should be included you can email me by clicking here and I will consider including them.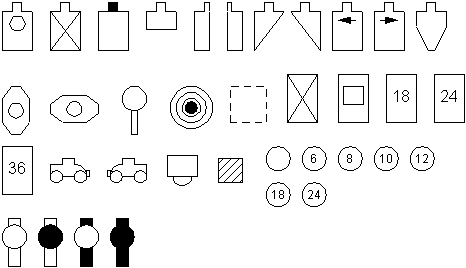 From left to right: Top Row - silhouettes: plain, no shoot, head shot only, horizontal half, left and right half,
left & right diagonals, left & right mover, bobber. Second Row - Clanger (swinging center) vertical & horizontal,
lollypop, bullseye target, shooting box, barricade, barricade with window, "screens" (18" - 24"). Third Row -
36" "screen," left and right facing vehicles, table and chair, firing position, round plates (blank and various
diameters), Fourth Row - Pepper Popper, locked Popper, heavy caliber Popper, locked heavy caliber Popper.
To download the latest version of this stencil (1999-08-08) in zipped format (Layout.zip--26k zip file) click here. The file contains the stencil "course design.vss" and a "read this" file. Copy the stencil file to your \Visio\Solutions directory. When you open a new drawing simply select this stencil.
Microsoft (of all people) also has a Visio Add-In for crime scene layouts. It states that it is for Vissio 2000 but apparently will work in version 5 also according to my sources. You can download it from Microsoft by clicking here.
---
Please email comments to Fr. Frog by clicking here.
---
| Back to Fr. Frog's Home Page |
---

Updated 2005-11-28