Saint Dunstan
(Patron Saint of Armorers and Gunsmiths)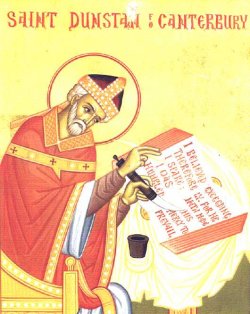 Dunstan was born 909 in Baltonsborough, Glastonbury, England to a family with royal connections. He became a monk in 943 and hermit and served as advisor to King Edwy until he reproached the king on his profligate sexual ways - which caused the Dunstan to be exiled. In 957, under a new king (Edgar) he became the Bishop of Worcester, and eventually became the Archbishop of Canterbury. He was responsible for reforming church life in 10th century England. He was said to have been an expert craftsman and an expert goldsmith and metal-worker (which in those days was synonymous with arms making) and thus he came to be known as the patron saint of armorers.
His Feast Day is May 19.
---
Please email comments to Fr. Frog by clicking here.
---
| Back to the Saints Page | Back to Fr. Frog's Home Page |
---

Updated 2005-10-07