Goodies for Reloaders
There are a number of nifty items out there that make reloading easier. Below is an alphabetical listing of some things that I think are must haves and that won't break your piggy bank. They all get 5 flippers from Fr. Frog.

If you have any other suggestions email me by clicking here.
---
Case Trimmer
TrimIt II Case Trimmer (eztrimit.com)

This neat case trimmer i/ chamfering tool s run from an electric drill, drill press, or even a small lathe and is very fast, consistent, easy to adjust, and reasonably priced. It comes with a 4-flute trimming bit, an adjustable chamfering cutter, and 3 cartridge inserts (.223/5.56 mm, .308/7.62 mm, and .30-06). Other inserts are available. They also have a unit with a motor attached.

They still offer the original TrimIt that only trims and which comes with both a .223/5.56 mm and .308/7.62 mm insert. -- .223/5.56 and .308, and would be the choice if you already have a chamfering setup or tumble your trimmed cases in steel pin media. Current units have a slightly different cutter than pictured. I

With a little practice and dexterity you can trim over 500 cases an hour with these. They are a great company to deal with and they stand behind their products. In my experience, it works best at speed of around 200 - 300 rpm preferably with no lube residue on the cases. I love mine.
Photo by Act/Coleman Machinery
Die Lock Rings
Forester (Bonanza) Cross Bolt Die Lock Rings ( www.forsterproducts.com)
These rings features an easy to use cross bolt that connects the two ends of the ring instead of a traditional screw design that tightens directly into the threads of the die. The result is a more reliable alignment with no canting and no damage to the die threads which remain untouched by the cross bolt. Tightening or loosening the cross bolt requires a 7/64" hex wrench. They will fit any manufacturer's standard 7/8" X 14 dies and are required for the Bonanza (Forester) Co-Ax press. Similar rings are made by some other companies but I have found that they won't work on the Co-Ax press because they are a hair too thick. Note because of their size they are not compatible with the Dillon machines. Forster also makes other protect for reloaders and gunsmiths..
Flash Hole Uniformer/Chamfering Tool
Possum Hollow Deluxe Flash Hole Deburring Tool (www.midwayusa.com) Product #: 559829
While there are a lot of these tools on the market, but I think this is the best because it has a positive stop that works off of the web of the case rather than the case mouth, thus ensuring a more uniform hole over a wide range of web thicknesses.

Lead Hardness Tester
Lee Lead Hardness Tester (#90924)
This tester allows you to accurately measure the BHN hardness of lead alloys or bullets and comes in handy when you are trying to blend scrap alloy to get a particular hardness. The tester includes a calibrated hardened steel ball indenter, v-block cradle that snaps into standard press ram, a 20 power, 4 lens. optical measuring microscope, and a hardness table. Available from numerous sources.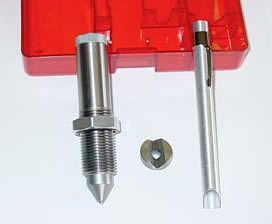 Photo by Lee Precision
Bullet Seating Depth Tool
Sinclair Bullet Seating Depth Tool (Brownells #749-004-650)
This nifty tool allows you to easily determine how far out to seat your bullets just short of the land, for best accuracy. This is extremely important when loading the new low drag bullets with their long tapered noses.
Showing tool (caliper not included) and rod guide
Dillon Reloader Accessories From UniqueTek (www.UniqueTek.com)
If you own a Dillon 550 or 650 you NEED to get these items! Plus, UniqueTek is also a great company to deal with. Ask for Lee.
Dillon 550B Bearing Kit
The TURBO-BEARING® for Dillon RL550B smoothes the indexing of, and reduces the play and wobble of the shell plate. You can tighten the shellplate bolt without causing excessive drag. It really changes the "feel" of the press.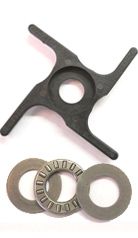 Dillon 550/650 Toolhead Clamp Kit
The UniqueTek Toolhead Clamp Kit™ enables the toolhead of Dillon 550 & 650 presses, or the die plate of RCBS Pro 2000®/ Piggyback™ -3 & 4 presses, to be clamped into the press frame. This corrects the loose fit between the toolhead and press frame, and dramatically reduces seating depth variation and stabilizes die-to-shellplate alignment. Your press frame remains unmodified so you can still use standard toolheads/die plates with the original toolhead pins and it does not void your warranty
| | |
| --- | --- |
| | |
| Kit | Screw in place |
CNC Machined 550/650 Toolheads
These machined, rather than cast, toolheads are made by Whidden Gunworks. All critical machining is done on one operation, yielding tolerances of 0.0002" on all critical dimensions ensuring that all die mounting holes are positioned precisely relative to each other and are exactly perpendicular to the flange. The flange is also flatter than possible with a cast toolhead. The 7/8"-14 die mounting threads are machined to Class 2B tolerance to better mate with the threads on your dies. These toolheads are available in either the standard Dillon form or with the UniqueTek Toolhead Clamp Kit™ parts pre-installed.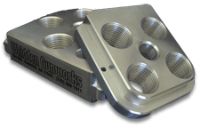 Micrometer Powder Adapter
The Micrometer Powder Bar Kit™ upgrades the existing Dillon powder bar to a micrometer adjustment powder bar. The Micrometer Powder Bar Kit™ replaces the original 1/4-28 adjustment bolt with a true precision micrometer with 40 threads per inch allowing you to return instantly to any powder weight setting. (You must still weigh and confirm all powder weight setting changes.)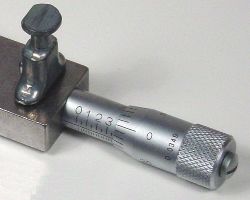 Powder Measure Emptying Bar
Powder Measure Drain-N-Change™ Tool Allows users of Dillon reloading presses to drain ALL powder or change powder bars without removing the powder measure from the toolhead or press. It fits all versions of the Dillon Auto Powder Measure (It does not fit the older, manually operated Dillon Powder Measure.)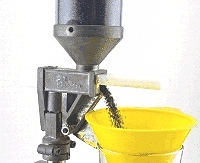 Photos courtesy of UniqueTek
Other Dillon Press Accessories
Another company making upgrades and accessories for Dillon reloading presses is Level 10 (https://lvl10i.com/). They offer numerous enhancements for then including extended primer feeds, bearing kits, primer catchers for the 1050, 650, and 550 pressed.
Special Crimp Dies
Lee Factory Crimp Rifle Dies
These dies utilize a compression collet to uniformly crimp rifle ammo. Great for use with cannelure bullets in ammo for semi-auto or full-auto firearms. The trick to proper results is to adjust the die to just remove any mouth belling while not crushing the bullet. Available from numerous sources in a wide variety of calibers. Lee collet neck sizing dies are excellent if all you do is neck size for bolt action rifles.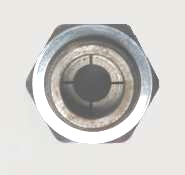 Tumbling Media
Stainless Steel Pin Media
The neatest tumbling media I have used is the stainless steel pin media that is used wet in a rotary tumbler (doesn't work in a vibratory tumbler). These little pins clean primer pockets, and the insides of cases to a like new condition, inside and out, when used with a little citric acid and a detergent like Dawn, Awsome, or 409. It comes in a couple of sizes, the most common being the .047" x .255" size. One thing I really like about this media is that it will deburr trimmed case mouths and remove swaging chips from swaged primer pockets. It generally needs a breakin period for best results. It is available from several on-line sources, including http://www.stainlesstumblingmedia.com or in bulk from www.pelletsllc.com. It comes in nonmagnetic and magnetic varieties and the magnetic type is preferred for easy pickup.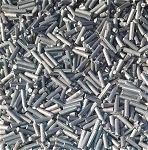 Pin media is dirty from manufacturing process and usually has a few minor burrs on it. For best results run the tumbler with just the pins, water, and some detergent before use.
For the liquid case cleaning solution use
1 gallon water (room temperature tap water is fine)

1 - 2 tablespoons of DawnTM dishwashing detergent, 409TM, AwsomeTM, or similar powerful detergent.

¼ teaspoon of Lemi ShineTM dishwasher additive or citric acid. Do not over add as it will discolor your brass.
For a drum that is about 8" in diameter and 9" long (a.k.a. a "15-17 pound" tumbler) , use the following guidelines. Use a proportional amount for smaller or larger tumblers.
Fill tumbler with about 1 gallon of the cleaner mix described above. (About 8 lb of water)

Add 5 Lbs of pins to the drum.

Add 4 lb of brass. Tumble nickel plated brass separately and reduce time by about 50%.
The basic proportions BY WEIGHT are: 1 part brass, 1.25 parts pins, 2 parts liquid cleaning solution.
Tumble 3-4 hours.
Pour out as much liquid as you can without losing any brass or pins.
Fill drum with clean water, and separate brass by hand or use an media separator with water.
Rinse your brass several times with some lukewarm water. Not getting a good rinse can leave water spots on the brass, and the more you rinse the brass and pins the better your results will be next time.
Dump brass onto a towel and let dry thoroughly or place in a warm 150 –180 degree oven. When completely dry use a media separator again to ensure all the pins are out of the cases.
Tips
"Escaped" pins can be retrieved with a magnet wrapped in a plastic bag. (The bag will enable you to peel the pins from the magnet.)

To help keep the brass shinny you can add about a teaspoon of Ivory liquid to the final rinse water and then allow to dry.

If you decap and /or swage primer pockets your brass before tumbling the primer pockets will get cleaned and all sharp edges deburred.

You can store the media either wet or dry.

Lemi Shine is available at most grocery stores, Walmart, and from Amazon.
Cardboard Ammo Boxes
If you need cardboard ammo boxes for your reloads RepackBox offers new white cardstock boxes in numerous calibers. The boxes are made in the USA of .024 thick, acid free, virgin card stock. Each order comes with blank labels and a pair of white cotton gloves to keep your ammo fingerprint free. All boxes have markings which show caliber, number of rounds enclosed, and an outlined box where a customizable standard label may be placed. Very reasonable pricing. They also have numerous other goodies of interest to reloaders and folks who are prepared. A really great company!
Currently available in 5.56 X 45, 7.62 X 39, 7.62 X 51, 7.62 x 54R, .303 British (and .30-40 Krag),.30-30, .30-'06, .30 Carb, .380 ACP, .357 Mag, 9 x 19 mm, .40 S&W, 10 mm ACP, .44 Mag, .45 ACP, .45 LC, and 12 ga.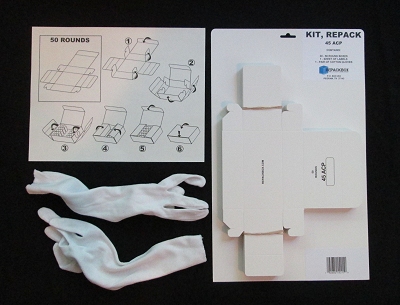 ---
Please email comments or questions to Fr. Frog by clicking here.
---
| Back to Fr. Frog's Homepage |
---
Disclaimer
As far as I know all the information presented above is correct and I have attempted to insure that it is. However, I am not responsible for any errors, omissions, or damages resulting from the use or misuse of this information, nor for you doing something stupid with it. (Don't you hate these disclaimers? So do I, but there are people out there who refuse to be responsible for their own actions and who will sue anybody to make a buck.)

Updated 2018-02-01