Hubert, Bishop of Maastricht, Netherlands
(Patron Saint of Hunters)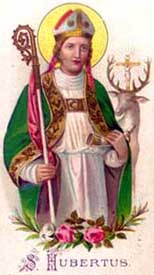 Hubert of Liege--also known as Apostle of the Ardennes-- was a married courtier serving Pepin of Herstal, France. He was an avid hunter and reportedly had a vision of a crucifix between the horns of a stag while hunting. Widowed, he is believed to have entered Stavelot Monastery, Belgium, and was ordained by St. Lambert at Maastricht and became Bishop there. He later succeeded St. Lambert, about 705, as bishop of Liege. Hubert erected a shrine for St. Lambertís relics at Liege, France. He was noted for his miracles and for converting hundreds. Hubert died at Tervueren, near Brussels, Belgium, on May 30, 727. Highly revered in the Middle Ages, there were several military orders named in his honor.
His feast day is November 3.
---
Please email comments to Fr. Frog by clicking here.
---
| Back to the Saints page | Back to Fr. Frog's home page |
---

Updated 2009-08-27