Saint Lawrence
(Patron Saint of Armories and Armorers)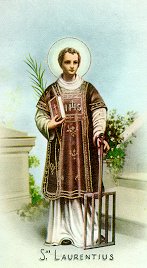 ---
Lawrence the Deacon, one of the most popular saints of the Roman Church was born in Huesca, Spain. He became a third-century archdeacon of Rome and "keeper of the treasures of the church" in a time when Christianity was outlawed. Indeed, Emperor Valerian delighted in the persecution of Christians. On 6 August 258, by decree of Valerian, Pope Saint Sixtus II and six deacons were beheaded, leaving only Lawrence. According to legend, before his death Sixtus greeted and reassured Lawrence that he was not being left behind; they would be reunited in four days. Lawrence saw this time as an opportunity to disperse the material wealth of the church before the Roman authorities could lay their hands on it. On 10 August Lawrence was commanded to appear for his execution, and to bring along the treasure with which he had been entrusted. When he arrived, the archdeacon was accompanied by a multitude of Rome's crippled, blind, and sick; he announced that these were the true treasure of the Church. He was martyred on 10 August 258; cooked to death on a gridiron.
He has been traditionally associated with armorers and armories but the reason for that association is not clear.
His Feast Day is August 10.
---
Please email comments to Fr. Frog by clicking here.
---
| Back to the Saints Page | Back to Fr. Frog's Home Page |
---

Updated 2005-10-07 @ 1000