The Rough Riders
1st U.S. Volunteer Cavalry
---
| The Rough Riders History | Arms of the Rough Riders | Rough Rider Reenactment Groups |
---
A Brief History
At the start of the Spanish-American War congress authorized 200,000 volunteer soldiers to supplement the regular army which at that time numbered only 28,000 (at least on paper). In the rush of patriotic fever over a million men attempted to enlist. The call for volunteers provided for three regiments of "mounted riflemen" and the then Secretary of War, Russell Alger, offered a command of one of these regiments to Theodore Roosevelt.
While Theodore desperately wanted to be part of the fight he was smart enough to realize that he did not have the necessary experience to command a combat regiment. He deferred command to his friend Col. Leonard Wood, a Medal of Honor winner from the Indian Wars, while he accepted a commission and second-in-command as a Lt. Colonel. Thus the Rough Riders, officially the 1st U.S. Volunteer Cavalry--Dismounted, was born of this friendship. (In the table of organization it was in the 2nd Brigade of Maj. Gen. Joseph Wheeler's Cavalry Division. Other units in the 2nd Brigade were the 1st US Cavalry, 10th US Cavalry (The Buffalo Soldiers), and the 10th U.S. Cavalry Mountain Gun Detachment.)
Originally the unit had no name other than it's official 1st U.S. Volunteer Cavalry designation. However, because of Roosevelt's colorful character the press started to refer to the group by various nicknames such as "Wood's Wild Westerners," and "Teddy's Riotous Rounders" but the two names that got the most use were "Teddy's Terrors," and "Roosevelt's Rough Riders." Neither Wood nor Roosevelt really cared for any of the names but the "Rough Riders" moniker seemed to stick and soon they were referring to themselves in official correspondence as the "Rough Riders," the name that has come down through history.
The regiment's strength was initially set to 780 but that number was later raised to 1000. The Rough Rider's ranks included cowboys, indians, socialites, polo players and just average citizens who responded to the nation's call to arms. The majority of its members came from Texas, New Mexico, Arizona, and New York.
The regiment gathered at Camp Wood in San Antonio, Texas for training and provisioning, and after a month of preparation they left for Tampa, Florida, where the Cuban invasion force under Gen. William Shafter, was gathering. The entire transport project was the epitome of total confusion and chaos. Thanks, however, to Wood's organizational skills and Roosevelt's brashness they were able to get transportation and equipment and thus be part of the 17,000 man force destined for Cuba. Unfortunately, nearly half of the regiment's men and nearly all of its horses were left behind due to lack of space on the ships bound for Cuba.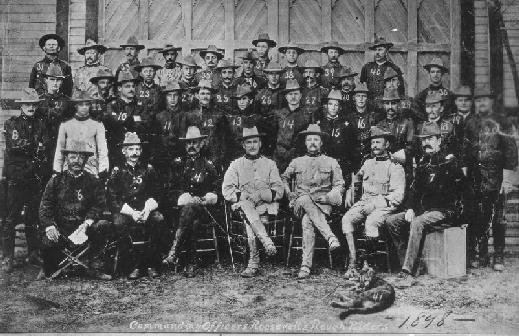 Commander & Officers of Roosevelt's Rough Riders - 1898.
TR is the third from the right and Leonard Wood is center in the front row.
The exploits of the Rough Riders in Cuba are well enough known not to have to be repeated here. However, for those who would like to learn more about the Rough Riders I strongly recommend the book, The Rough Riders, by Theodore Roosevelt, with additional text by Richard Bak, Taylor Publishing, Dallas, TX, ISBN 0878339825.
The "Muster Out" roster of the Rough Riders is available at: http://www.bartleby.com/51/a.html
For photos and maps of the famous battle go to: http://www.theodore-roosevelt.com/trrr.html

A rather good video on the Rough Riders, called (what else) The Rough Riders, was produced by Turner Pictures and directed by John Milius. Staring Tom Berenger who gives a great performance as Theodore Roosevelt, it is quite good as far as historical and technical accuracy goes (major goofs were some reverse printed scenes--gotta get me one of those left-handed Krags), TR's using and M1873 Colt .45 instead of the Colt M1895 .38, and some minor tinkering for dramatic or storyline effects, but it is otherwise a keeper. The Turner VHS video number is T6538 and its ISBN is 0-7806-2156-5. It is out of print but should be available from any large supplier of video tapes.
Rough Riders was recently (6/06) released as a 2 disc DVD set (standard TV format, 1.33:1) as Turner #T7580, ISBN 0780654374 and it is available from Amazon.com and other retailers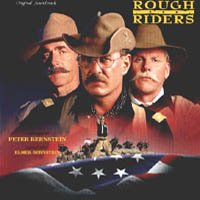 There is also a sound track CD available. It was published by Intrada and its stock number was MAF 7079. It doesn't seem to be currently listed on their site http://shopping.netsuite.com/s.nl/alias.intrada/.f
---
In the movie, the song "Minstrel Boy" is introduced as G Troop's troop song. It is an Irish patriotic song written by Thomas Moore (1779-1852) who set it to the melody of The Moreen, an old Irish tune. The song gained widespread popularity and became a favorite of many Irishmen who fought during the United States Civil War and the Spanish American War and gained even more popularity after World War I. The melody is frequently played at funerals of members and/or officers of such organizations who have died or been killed in service, typically on bagpipes. Unsurprisingly, given its lyrics, it is also associated with the Irish Army and with traditionally Irish units found in other armies. I thought it was a very haunting melody and have reproduced the original lyrics below.
The minstrel boy to the war is gone,
In the ranks of death you'll find him;
His father's sword he hath girded on,
And his wild harp slung behind him;
"Land of Song!" cried the warrior bard,
"Tho' all the world betrays thee,
One sword, at least, thy right shall guard,
One faithful harp shall praise thee!"
The Minstrel fell! But the foeman's chain
Could not bring that proud soul under;
The harp he lov'd ne'er spoke again,
For he tore its chords asunder;
And said "No chains shall sully thee,
Thou soul of love and brav'ry!
Thy songs were made for the pure and free
They shall never sound in slavery!
During the American Civil War, a third verse was added.
The minstrel boy will return one day,
When we hear the news, we will cheer it.
The minstrel boy will return we pray,
Torn in body, perhaps, but not in spirit.
Then may he play his harp in peace,
In a world such as Heaven intended,
For every quarrel of Man must cease,
And every battle shall be ended.
---
Arms of the Rough Riders
Many of the Rough Riders carried personal arms of various types (the Winchester M1895 carbine in .30-40 was known to have been carried by some of the officers and men). The issue arms of US forces were the Krag repeating rifles and carbines, Springfield single-shot rifles and carbines, and Colt revolvers. The Rough Riders, as dismounted cavalry, were officially armed for the most part with Regular Army's Krag "cavalry" carbines thanks to insistence of Col. Wood and the efforts of Theodore Roosevelt. For those of you interested in the small arms of the Rough Riders you can click on the links below to visit my ordnance pages.
Krag Rifles and Carbines, Caliber .30-40
M1889 Revolver, Caliber .38 Colt
M1873 Colt Single Action Army, Caliber .45 Colt
Springfield Rifles and Carbines, Caliber .45-70
While not of general issue the Rough Riders also utilized several caisson mounted Gatling Guns in .30-40 Krag (not .45-70) with "stick" magazines, as well as 2 tripod mounted M1895 Colt/Browning "Potato Digger" machineguns in 7 x 57 Mauser that were donated to the unit.
The Gatling Guns are a fairly well known item, but the M1895 Colt is not. It was a belt fed, gas operated machine gun designed by John Moses Browning. Its actuator arm swung down below the barrel when fired thus leading to its nickname "potato digger." Weighing in at close to 40 pounds it was not particularly handy with its 50 pound tripod and mount, nor very reliable. Due to its lack of adequate barrel cooling it was suitable for short bursts of fire rather than sustained use but it proved to be a very useful arm. They were able to utilize captured Spanish 7 x 57 mm cartridges.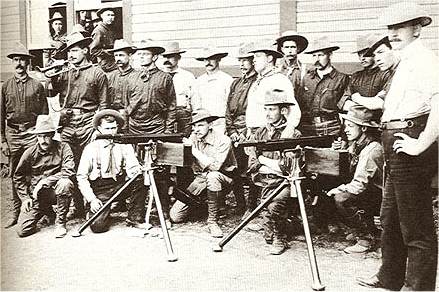 Photo of the unit's 2 M1895 machine guns taken at San Antonio, TX prior to embarkation
---
Reenactment Groups
There are several Rough Rider reenactment groups across the country. They vary in function from simply marching in parades to actual battle reenactments, historical restorations, and presentations. If you know of any other Rough Rider specific groups that should be on this list please contact me by clicking here.
1st California Vol. Infantry and 8th California Volunteer Infantry (North Bay, California)
Steven Martin
Email: castle50@sonic.net or samartin1@webtv.net
1st Idaho Volunteer Infantry, Co. H (Idaho, Oregon and Washington)
c/o Daniel L. Burch
11865 SW Tualatin RD.
Apt. # 169
Tualatin, OR 97062
Email: Delidan1957@AOL.com
1st Provisional Battalion de Puerto Rico (Maryland/Virginia)
Patrick L. Hubble
1112 Harrison Street
Lynchburg, Virginia 24504
(434) 847-4933 home
(434) 665-2204 cell
Email: patrick.hubble@yahoo.com or mortician88@hotmail.com
1st U.S. Volunteer Cavalry ("Rough Riders"), A Troop (Arizona Rough Riders Historical Association) - Arizona
David Williamson
Email: dezrat706@msn.com
1st U.S. Volunter Cavalry ("Rough Riders") B Troop - Arizona
P.O. Box 444
Sonoita, AZ 85637
(520) 455-9321
1st U.S. Volunter Cavalry ("Rough Riders"), Troop D - Oregon, Washington and Idaho
Tom Thompson
Email: tgrnmtnrd@cs.com
1st U.S. Volunter Cavalry("Rough Riders"), Troop D - Southern California
Western Educators, Shooters & Troopers (WEST)
P.O. Box 241
Rosemead, CA 91770
Email: spanamwest@yahoo.com
1st United States Volunteer Cavalry (Rough Riders), K Troop, Leon County, Texas
John Cobb , Captain
K Troop, 1st United States Volunteer Cavalry
8068 PR 1440
Centerville, Texas 75833
Email: cobbfarm@ev1.net
1st U.S. Volunteer Cavalry Regiment Rough Riders, Inc.- (a service and social club) Tampa, Florida
Rough Riders, Inc.
P.O. Box 75892
Tampa FL 33675
Phone: (813) 248-1898
Fax: (813) 247-4864
1st U.S. Volunteer Cavalry "Rough Riders"(Long Island, NY)
Frank Bradford
fbradford@mac.com
(516) 978-2503
nshaonline.org
2nd Oregon Volunteer Infantry
Sam Kimpton
3006 N.E. 60th Ave
Portland, OR 97213
(503) 287-2618
Email: bessel@europa.com
2nd Texas Volunteer Infantry, Co. K, Dallas-Fort Worth, Texas
Ed Owens
(214) 977-8783.
Email: e.t.owens@tx.rr.com
2nd U.S. Infantry, Co. E - Florida and Minnesota
3307 Canterbury Dr.
Bloomington, MN 55431,
(612) 831-0353
Email: jle130@aol.com
4th Batallon, Talavera Infantry Regiment (Spanish)
PO Box 50756
Palo Alto, CA 94303
(650) 325-8556
6th U.S. Infantry, Co. B.
The Spanish War, 1898 Inc. - San Francisco, California
c/o Dave Rodgers
2315 Goodwin Ave.
Redwood City, CA 94061
(650) 852-4717
Email: drodgers@saw1898.com
6th U.S. Infantry, Co. B
111 West Central
Tracy, CA 95376
209 836-5753
9th Memorial Cavalry - Arizona
6001 W. Villa St.
Phoenix, AZ 85043
Email by ninthcaval@aol.com
9th U.S. Infantry, Co.C - Indiana and Illinois
9th U.S. Inf. C Co.
c/o Charles R. Casada
8515 So. Cowan Road,
Muncie, IN 47302-9127
(765) 289-2042
22nd U.S. Infantry - Southeast Wisconsin
Joe Roman
W.248 S.8405 Stonehill Drive
Mukwonago, WI 53149
262-662-1295
Email by caroman@execpc.com
71st New York Volunteer Infantry, Co. F - New York
18 Walnut Ave.
Rockville Center, NY 11570
(516) 678-5156
Email: jjjrmich@aol.com or CoF71NYV@hotmail.com
Boys (and Girls) of '98 - Michigan
Peter Karpawich
Great Lakes Living History Society
842 Westchester Rd.
Grosse Pointe Park, MI. 48230
Email by PKARPAWI@DMC.ORG
Batallon de Cazadores No. 25 "de la Patria (25th Rifle Battalion) - Illinois and Ohio
25th Rifle Regment "Patria" (Spanish)
320 E. Main PO Box 73
Easton, IL 62633
(309) 562-7664
Email: rkl@casscomm.com
Camp Merrit Volunteers
No data available
"Company A" (Philadelphia/Allentown, Pennsylvania).
(covers U.S. Army 1880 -1915; Spanish American War Marines)
Sean Kling
Email: tank704@entermail.net
Ejercito Libertador de Cuba 1868-1898
(Cuban Freedom Fighters)
Stanhope, NJ
Tony Delgado
Email by Bren303@aol.com
Filipino Scouts, 1899
5915 99th Street SW-14A
Lakewood, WA 98499
Email: r2ro43@hotmail.com
Living History Crew of the USFS OLYMPIA - Philadelphia, Pennsylvania
Patrick McSherry
3416 Main Street
Conestoga, PA 17516
Email: pmm@redrose.net
Theodore Roosevelt
Joe Wiegand - Theodore Roosevelt Reprisor
Wiegand's Victory Enterprises, Inc.
868 State Route 72
Fairdale, IL 60146
Email: jwiegand@tbc.net
www.teddyrooseveltshow.com
The Spanish War 1898 Inc.
Mike Lewis
21 Pleasant Hill Dr.
DeBary, FL 32713
Email: info@saw1898.com
US Army Recruiting Service - 1898
Andrew Rowden
233 S. 1st Street
Austin, IN 47102
Email: acwdoc@hotmail.com or ranger1905@yahoo.com
1st USV Cavalry Troop G
Captain Andrew L. Bresnan
Central Illinois and Indiana
Email: seanthornton13@hotmail.com
Living history displays as well as battle reenactments.
There is also a Spanish-American War web site available at: www.spanamwar.com.
---
Please email comments to Fr. Frog by clicking here.
---
| Back to TR Page | Back to Fr. Frog's Home Page |
---

Updated 2017-05-02