St. Gabriel Possenti
(Unofficial Patron Saint of Handgunners and Marksmen)
---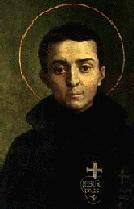 Saint Gabriel Possenti is officially known as Saint Gabriel of the Sorrowful Mother and is the official Catholic patron of youth, seminarians, clerics, and the Abruzzi region of Italy.
Gabriel Possenti was born in the famous town of Assisi, Italy on March 1, 1838. His family name was Francis Possenti. He was the eleventh of thirteen children born to Sante Possenti and Agnes Frisciotti Possenti. Sante was both a civil and Church lawyer, and served as an appointed public official in the Papal States, which included large sections of what would eventually become a unified Italy in 1859.
Young Francis was a normal young boy and teenager. He was interested in hunting and dancing and the theater, and was very popular among the other youth in Spoleto, where the family had moved from Assisi. Francis experienced a calling to the religious and priestly life and entered the Congregation of the Passionists, a religious community devoted to the living and preaching the saving merits of Our Lord's passion and death. He took vows in the Passionist community and was given the religious name, Gabriel of the Sorrowful One (or sorrowful Mother). He was stricken with tuberculosis about a year before he was to be ordained a priest and died on February 27, 1862 in the Passionist monastery at Gran Sasso in the Abruzzi region of Italy.
Gabriel's life as a religious was marked by a faithfulness to prayer, love of sacrifice, heroic virtue, and a very cheerful disposition despite his illness. Through his intercession, after his death, miraculous cures were obtained. Pope Benedict XV canonized Gabriel in 1920 and declared him a patron of Catholic youth. In 1959, Pope John XXIII named him the patron of the Abruzzi region, where he spent the last two years of his earthly life. His shrine at Gran Sasso is one of the more popular ones in Europe.
His unofficial adoption as the patron saint of handgunners and marksmen is based upon documented events in which Friar Possenti interceded when a couple of goblins were in the process of robbing some folks on a back road (or by some accounts terrorizing the residents of the town of Isola).
Friar Possenti approached the brigands and ordered them to leave. When they refused he drew a pair of pistols (some accounts say "revolvers" but given the 1859 date of the event, it was more likely they were flintlock or percussion single shot pistols) from beneath his tunic. They laughed at him, saying something to the effect of "...those are useless-- what would a priest know of hitting anything with a pistol..." and they advanced to attack him and the others.
Friar Possenti took aim at a lizard across the road, and cut it in half with a well placed shot. Friar Possenti pointed out that he still had another shot in his other pistol, and asked which of the goblins wished to receive it first--whereupon, the they decided that they had more important business elsewhere and departed with a stream of cursing.
While accounts of the actual incident appear to have grown somewhat embellished over time, the core of the story has been reasonably substantiated by references to the event in a diary and the diocesan journal kept by the friars of his order.
His feast day is February 27.
Additional information on St. Gabriel Possenti can be found at http://www.geocities.com/saintgabrielpassionist/
---
Noted shottist Jeff Cooper was awarded a medal by the St. Possenti Society in Rome, on February 27, 2001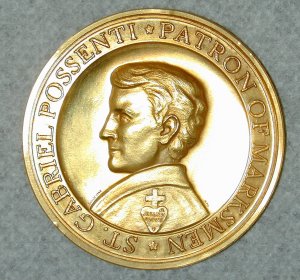 St. Possenti medal awarded to Jeff Cooper, March, 2001. The obverse reads: "For Christian efforts in the preservation of the right of self defense against evil and tyranny. February 27, 2001."
---
The St. Gabriel Possenti Society may be contacted at:
John M. Snyder
St. Gabriel Possenti Society, Inc.
P.O. Box 2844
Arlington, VA 22202
---
For the adventures of another cleric with the proper mindset, Friar Pedro Zaldivia, click here.
---
Please email comments to Fr. Frog by clicking here.
---
| Back to Saints page | Back to Fr. Frog's home page |
---

Updated 2005-11-28 @ 1830