Fr. Frog's Gourmet Pizza
We couldn't find a really good pizza place here in Cottonwood, so as usual I made our own. This recipe is not part of the Fr. Cooky archives and thus it does not include the usual entertaining story along with the recipe. It is however, regularly made by Fr. Frog and shared with his good friends when they break bread together. It's secret is the semolina flour which gives the crust that great pizza parlor flavor instead of tasting like bread.
---
For best results you need a baking stone. (If you don't have one, you're either not a baker or you've been hiding in the back woods too long.) A baking "steel" also works. These are available from King Arthur Flour at http://www.kingarthurflour.com .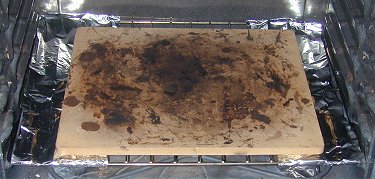 Note aluminum foil blocking the open areas on the sides of the baking stone. Depending on your oven this may help
with the baking process as the crust will brown quicker than the topping thus avoiding the "burnt topping syndrome.
Try it with and without the foils and see what works best for you.

Also try varying the height of the baking rack as ovens tend to have different zones.
I have 3 different recipes that you can try. These recipes utilize a baking stone and a 500 deg (yes, five hundred degrees!) oven. If your oven will go higher do so. Note that it may take 20-30 minutes or longer to get to that temperature depending on your oven, with a baking stone in place and you should let it continue to heat for 15 or so minutes after the temperature is reached to insure the stone is hot..
Quick American Style Crust
Gather together the following ingredients.
2 cups unbleached flour
1½ cups semolina flour (available at most health food and baking stores--the "magic ingredient")
1 tsp table salt
2¼ tsp instant yeast
1-1¼ cups warm water (about 110-120 degrees F)
2 Tbs olive oil
3 Tbs dough relaxer (optional--Laura Brady's Dough Relaxer from King Arthur Flour makes it easier
to get a thin crust)
Cornmeal for dusting

At times I've also added a touch of garlic powder (1/2 to 1 tsp) or Parmesan cheese (about 1 Tbs) to this dough just to be different.

You can also add about 1/2 cup cornmeal to the above for a different texture.
Mix the dry ingredient (except the "dusting" cornmeal) and add the olive oil and 1 cup or so of the warm water. Knead, by whatever means you like (I use a Kitchen Aid mixer with a dough hook), and add additional water as necessary, to get a smooth soft dough, (it will take longer than you would expect) and then place the ball in a warm and greased bowl. Then turn the dough ball over so the greased side is up, cover with a towel and allow to rise until doubled in a warm (80 - 85 degree) place--about 45 minutes.
Punch down and cut ball into two pieces and form into desired shape on a lightly floured surface. I like thin crust but do what you like. You may need to let the dough rest a couple of times as you form your pizza to keep it from pulling back. Transfer to a cornmeal dusted baking sheet (single thickness--not one of those "air" sheets) and top as desired. Slide the baking sheet onto the stone and bake for about 2-3 minutes (this makes it easier to handle the pizza). Then using a peel or baking sheet slide the pizza directly onto the stone and continue baking until the bottom of the crust is dark golden brown. Remove from oven, slice, and eat. See note below on pizza making hints.
True Italian Napoletana Crust (Meets the Associazione delle Vera Pizza Napoletan / DOC standards if made without the oil)
This is a bit more work but is worth it if you like a crispy crust. The 3 cup of flour recipe makes 2 - 12 x 16" thin crust pizzas or 2 - 14+ inch round pies. This is the recipe we make all the time now.
INGREDIENT

RECIPE SIZE

FLOUR*

2 cup

2¾ cup

31/3 cup

4½ cup

KOSHER SALT**

1½ tsp

2 tsp

3 tsp

SEMOLINA

1/8 rounded cup

¼ rounded cup

1/3 rounded cup

2/3 rounded cup

YEAST

½ rounded tsp

¾ rounded tsp

1 rounded tsp

1 ½ tsp

WATER*

6 oz

9.5 oz

13 oz

16 oz

OPTIONAL OLIVE OIL

1 tsp+

2 tsp

1 TBS -scant

1 TBS + 1 tsp

*Vary amount of water as need to get a smooth, pliable dough. A slightly wet dough rises better.
**If you use regular table salt use 3/4 as much.
* King Arthur offers an "Italian style flour" that in my opinion is the absolute best flour for pizza dough. Their regular unbleached flour works fine too.
New York Pizza
To make a NY style crust replace the "optional oil" in the above chart with the ingredients below and don't roll quite as thin.
| | | | | |
| --- | --- | --- | --- | --- |
| SUGAR or HONEY | 1¾ tsp + ⅛ tsp | 2¾ tsp scant | 3 ½ tsp + ⅛ tsp | 1½ TBS |
| OLIVE OIL | 1 TB + ½ tsp | 5½ tsp | 2½ TBS scant | 3 TBS |
Chicago Style Dough
Substitute cornmeal for the semolina.
Procedure
Mix all dry ingredients well, add water, and mix on low speed (1) with a dough hook for about 4 minutes until a coarse ball is formed. Let rest for 5 minutes. Mix at medium low (2) for at least 5 minutes or longer (until the dough clears the side of the bowl and holds its shape). If the dough is too soft to hold its shape mix in a little more flour in very small amounts or if too stiff or dry add a little more water a tablespoon at a time. Test the dough by pinching off a small piece and gently flattening and stretching it until it is paper thin and translucent. If it tears while doing this test continue kneading the dough for a couple of minutes longer.
Transfer dough to a floured surface and dust the top of the ball with a little flour and then fold in the 4 corners and form a ball. Place the ball in a bowl coated with olive oil, turn the dough to coat it, and then cover with plastic wrap and let stand at room temperature for 1½ hours or longer. Punch down, reshape into a ball as above, return to the bowl, cover, and refrigerate for 2 hours or more. Over night is best.
About 2 hours before you are ready to make your pizza remove the dough from the refrigerator. Gently, trying to deflate as little as possible, transfer the dough to a floured surface and divide into the number of pieces you want. Shape the pieces into 2 balls and lightly coat with olive oil with your hands or a brush. Place dough balls on a greased baking sheet or on a parchment covered baking sheet. Lightly cover the dough balls with plastic wrap and allow to sit for about 2 hours or so. Then shape your pizza, add your toppings, and bake on a baking stone in a preheated 500 - 550 degree over until desired brownness.
You can shorten the refrigeration and warming cycles but the dough tastes better if the recipe is followed. I either make the dough the day before or the morning, after breakfast, if I know we're having pizza for dinner.
We like THINLY sliced red & green sweet peppers and onions, or spinach, black olives, and mushrooms (or onions), or simply plain with lots of good sauce and cheese. Use your favorites and don't be skimpy! Serve with your favorite red wine or beer, and good friends.
While you can use your favorite commercial (choke, gasp!) sauce, if you click here you'll find three really great and easy to make homemade pizza sauce recipes.
A note about flour. If you use "bread" flour or other high gluten flour instead of "all purpose flour" you will have to add 1 tsp olive or vegetable oil per cup of flour to get things to work right.
Detroit Style Pan Pizza (Similar to "Sicilian" Pizza)
This is a little different than classic pizza. It has has a thick, yet light and airy crust, and is made in a high walled 9" x 13" sheet cake pan.
2½ cups Bread flour (10 oz)
1½ tsp yeast
1 tsp grated parmesan cheese
½ tsp each oregano and basil
1 tsp salt
1 cup warm water
olive oil for greasing the pan
Combine dough ingredients and mix until a shaggy dough is formed, Cover and let rest for 10 minutes and then continue to kneed until it becomes smooth. (It will be a rather wet dough.) Form into a ball, place in a greased bowl, cover, and let rise until doubled.
Place oven rack in lowest position and heat oven to 500-550 deg.
Pour about 2 TBS olive oil into the pan and distribute evenly on the bottom and up the sides.
Gently stretch the dough with your fingers into the edges and corners of the pad until it starts to shrink back. Cover and allow to rest 15 to 20 minutes, and then stretch again until it covers the pan and up the sides a little. Cover and allow to rest for 30 to 45 minutes.
Gently press tough down on the floor of the pan to release any large air bubbles.
Top dough with a layer of pepperoni (optional), mozzarella cheese, a little medium cheddar (optional) and them top evenly with the Very Hearty Crushed Tomato Sauce on the sauce page.
Bake for 12 - 20 minutes (until the cheese is bubbly and the edges are almost black. Then run a spatula around the edges to loosen and let sit 10 minutes before serving
Pizza Making Hints
1) A slightly "wet" dough will give you a better rise and crust. Kneed very well (longer than you think is good.
2) When you start to shape your pizza from the balls of dough do so on a heavily floured surface and dust the top of the ball with flour to. The flour keeps the dough from sticking to your surface and allows you to rotate the dough as you shape it so it is easier to get a circle. Flop the circle of dough over several times as you shape it and keep the surface well floured. Makes a big difference in the ease of making the pizza.
3) Once the dough is shaped into a circle or rectangle of the desired thickness place it on a sheet of baking parchment and then top as desired. Using your peel or a baking sheet pick up the pizza and the parchment and slide them both onto your baking stone and bake for 1 to 2 minutes to set the dough. Then use your peel or the baking sheet to lift the pizza, pull the parchment out from under it and finish baking the pizza directly on the stone. Using the parchment paper prevents the dough from sticking to your peel or baking sheet. You can reuse the paper for the next pizza in the batch.
4) Some ovens don't brown the top edge of the crust before the cheese is melted resulting in toasted" cheese. If your oven is like this brush the edge of the dough with some olive oil (about a half-inch band), and top with everything but the cheese. Bake as above and when the crust starts to brown, slide the pizza out on your peel, top with cheese, and the put back on the stone until the cheese is melted to your liking.
4) Use garlic flavored PAM to grease your rising bowl and the dough balls for some extra flavor.
5) Try adding the cheese after you add the veggies or other toppings to the sauced pizza. It seems to seal in the juices and flavors. Most folks usually put the topping on top of the cheese.
Enjoy!
---
Please email comments to Fr. Frog by clicking here.
---
| Back to Fr. Frog on Food | Back to Fr. Frog's Home Page |
---
Disclaimer
If you don't like these recipes, that's your problem. Go starve!

Updated 2018-03-03