Popovers
If you've never had a Popover you are in for a treat. These light crispy accompaniments to a hearty meal are also referred to as Yorkshire Pudding when the fatty juices from a standing rib roast replace the butter in the recipe. They are particularly good with stew or a big salad.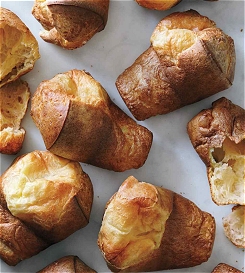 Yummy!
---
This recipe yields 6 popovers when made in a traditional popover pan (available at many "cooks" shops and even many Walmarts), or 12 smaller popovers when made in a "muffin pan".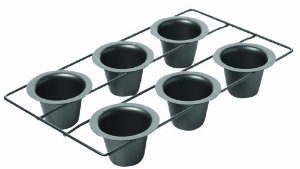 Popover pan
You will need
3 large eggs 1/2 teaspoon salt
11/2 cups (12 oz) whole milk 1/4 cup melted butter
11/2 cups all purpose flour (61/4 oz)
Note: Too much flour will yield very thick and heavy popovers (they'll still taste good). I strongly suggest weighing the flour rather than just measuring it. A cup of flour is nominally 4 - 4.25 oz. If you don't have a scale fluff the flour before scooping (do not pack the cup) and scrape of level with top of the cup. I started having problems with my popovers being too "thick" and when I weighed the "11/2 cups" of flour I was using it turned out to be close to 8 oz. Inexpensive food scales are available on Amazon.
Preheat oven to 450°.
Place all ingredients in a blender in the order given. Blend for 30 seconds, stopping midway to scrape down the sides. (You can also mix in a bowl by hand or a mixer if a blender isn't handy.) Batter should not be thick. If you live in a "dry" area you might need to add a little more milk. Allow the batter to sit for 10 - 15 minutes.
Using solid shortening or a non-stick vegetable oil spray thoroughly grease the muffin cups or popover pan cups. Grease the edges of the cups too. Gently stir the mix and then fill the cups about 2/3s to 3/4 full. Note if the cups are too full the popovers will tend to be denser and not as airy--but they are still delicious.
WHEN BAKING RESIST THE URGE TO OPEN THE OVEN DOOR DURING THE BAKING
Bake for 20 minutes at 450 and then reduce the temperature to 350 for another 10 minutes. Remove from oven, pierce the tops with a knife (allows the steam to escape), and allow to cool in the pan for 5 minutes and then turn out onto a wire rack. Serve warm, with butter or gravy. Bet you just can't eat one! A tip I recently received is to preheat the popover pan in the over before filling. It is claimed that this increases the "rise" of the popovers.
---
Please email comments or questions to Fr. Frog by clicking here.
---
| Back to Fr. Frog on Food | Back to Fr. Frog's Home Page |
---

Updated 2018-02-01