---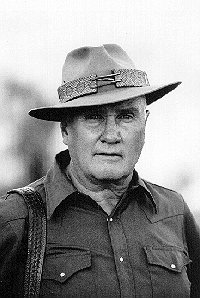 Thanks for checking out this page. If you print any page out you will get best results in "landscape" orientation.
Jeff Cooper was, besides a world-class shottist, a "wordsmith" and author of some renown. Since 1947 he published 20 books, over 500 magazine articles and columns, about a dozen videos, and numerous forwards to other author's books. His works have covered a wide range of topics besides shooting although that is his first love. The data in this bibliography, including books and videos is, as far as I and the Coopers know, complete, and runs from 1946 through 2006, with the exception of some "Cooper's Corner" columns.
Updates are posted immediately upon receipt so check often for changes. The latest posting date is on the very last line of the appropriate page.
This listing was originally put together to help Janelle Cooper who at one time had a fairly complete list of what Jeff wrote. Unfortunately, the list became misplaced and this project was undertaken to rebuild the data.
Please check these pages carefully. If you know of missing articles or columns, or if you can supply any of the incomplete information (which is highlighted in red) I would greatly appreciate it if you would email me by clicking here and supply me with as much data as possible. In addition, if you can provide further confirmation of whether the listing for a given year and publication is complete I would appreciate it as the publisher's own listings are sometimes incomplete. Please limit submissions to articles written by Jeff Cooper. Credit will be given on this page for your submission(s).
Articles that I have a copy of in my archives are marked by a chevron sign ( » ). If you have an article(s) that I do not have a copy of, I would appreciate receiving copies of those articles for the archive. If you wish, I am willing to reimburse you for postage or copying costs. Please indicate on the copy the publication and date.
John Schaefer
Excalibur Associates
1365 S. Saddleback Drive
Cottonwood, AZ 86326
USA
I will be glad to furnish you with copies of articles I have for your research at the following rates:
B&W Photocopy - $1.25 per page for the first 5 pages plus a #10 (business letter) self addressed and stamped envelope. [Quantities greater than 5 pages are $1.00 per page plus $1.25 for S&H

Adobe Acrobat PDF File (color image document, not editable) - $1.50 per page for the first 3 pages. Page after the first 3 are $1.25 each. [Note that these are 150 dpi scans and are large files which run about 2-5 MB per page. Most email services will not allow very large attachments so I send these on CD via mail for a S&H of $1.50.
If you want an article and have one of the issues marked as "missing" from my collection below I will do a direct swap with you for the missing issue.
---
A "Cooper" Collection
A 3 booklet collection of Jeff Cooper quotes, Quoting Cooper I & II , and Raventalk (selected poems and writings of Gunsite family members) is available for $10 (postage paid) from
Ben Burroughs
P.O. Box 147
LaGrande, OR 97850
Cash, check, or money order only.
If you have any questions, Ben can be contacted at

---
Credits (so far...)
So far, thanks to: Pete Albrecht, Stuart Ashton, Jack Baillie, Howard Bernier, Patrick Bryan, Ben Burroughs, Tom Cail, Ed Cassidy, Jerry Catania, Eric Ching, Jamie Coffey, Sandy Cole (Guns, American Handgunner), Jim Crews, Dave Croyle, Randolph Dominic, Jr., John Eads, Lance Edwards, Danie Ferreira, Rick Fischler, Bob Dickerson, Tom Goethe, Paul Gomez, Claus Gregor, Gila Hayes, Jay Hohenhau, Clayton Hufford, Doyle Hufstedler, Marc Heim, Jim Higginbotham, Jake Hodgson, Ivan Ingram (NRA), Tom Janstrom, Bill Jeans, Richard Johnson, Don Kenny, Sean Keener, Paul Kirchner, Jordan Kossack, Jerri & Ralph Lenehan, Tim Maloney, Chris Mayer, Barry Miller, Mark Moritz, Larry Mudgett, Fred Muller, Mason Murphy, Kenneth Pantling, Donald Plunkett, Tom Reisinger (SOF-Omega Group), John Schaefer, Brian Simmons, Craig Smith, Jim Smith, Donald Sroka, Mike Taylor, Bruce Watson, Dave Wilcox, Jeff Vaughn, W. Venable, Werner Weissenhofer.
VERY SPECIAL THANKS go to Rosco Benson, Jonathan Matej, Donald Plunkett, and Ric Wyckoff who have contributed many, many articles and periodicals, and to Bob Brubaker who took the time to visit the Petersen Publishing Company for me and complete the listings for G&A.
Thanks, everyone for your support of this project!
John Schaefer
Photograph courtesy of Janelle Cooper
---
The Writings of Jeff Cooper
One of Jeff's most sought after books is a nifty little orange booklet called Quoth the Raven - Seventeen Points to Ponder. It has been out of print for a long time but since the quotes it contained are from the public domain I have recompiled them for your enjoyment. Click here to view them, or click on the links below to view bibliographies of specific publications.
| Books | Published/Unpublished Manuscript Copies (87) | Videos (11)|
| The American Rifleman (3) | American Handgunner and American Handgunner Annual (22) |
| Combat Handguns (10) |
| Gun Digest (6) | Guns (26) | Guns & Ammo and Guns & Ammo Annual (423+) |
| Personal Survival Newsletter (35) | Petersen's Hunting (5) | Soldier of Fortune (38) |
| Misc. Publications |(51+)
---
Cooper's "Commentaries"
Jeff also published a monthly newsletter for the Gunsite family called Cooper's Commentaries. They can be read online at the following sites which also have archives of previous issues.
http://www.molonlabe.net/Commentaries/
http://myweb.cebridge.net/mkeithr/Jeff/
http://dvc.org.uk/jeff/
Site status as of 2008-01-19
---
Please email comments to Fr. Frog by clicking here.
---
| Back to the Jeff Cooper Page | Back to Fr. Frog's Home Page |
---

Updated 2015-02-08